Introduction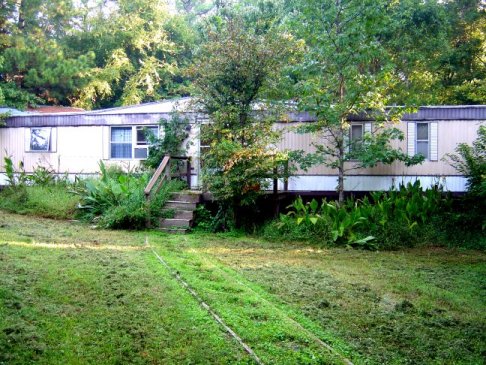 The Trailer- Home for Five Years
In 1999, I bought an old mobile home on an acre of land about 3 miles outside of Carrboro/Chapel Hill, North Carolina. The mobile home was nothing to write home about, but once I painted the smoke-stained wood
paneling, pulled up the ragged 70's era carpeting, painted the kitchen cabinets, put down new carpeting and some pine flooring, it became a nice little temporary home. Living in the home was easy, especially since it was on a beautiful piece of property that was covered with both hard and softwoods.
After a few years I built a 2 room 350 square foot freestanding office/studio and then another freestanding 2 room 200 sq. foot
workshop/storage building. Both of these buildings made life at the homestead much more comfortable. I built a little 400 gallon pond outside the window of my office and would work all day watching the wildlife right outside my window. Black Snakes, owls, squirrels, hawks, frogs and flowers blooming before my eyes. It was like having a front row seat to Mutual of Omaha's Animal Kingdom.
After a few years I started looking at the possibility of getting rid of the trailer of and replacing it with a real home. I was looking at a three different options: a)Building a new house, b) Having a modular home moved onto the land or c) moving a house onto the land.
I waffled between all three... I looked at modular homes, I drew some basics plans for a home I would build myself and I looked at a number of homes that had to be moved. Each option had pros and cons and I tried to come up with the best option which for me was a combination of: a) cost efficient b) would appreciate at a good rate and c)would be a relatively quick process.