Save Thousands of Dollars by Moving A House........
Have you ever been driving down the road and seen a house sitting on the side of the road on a trailor? Did you wonder what that house was doing there? Where it came from and where it's going? Have you ever wondered why someone would move a house from one place to another? Those are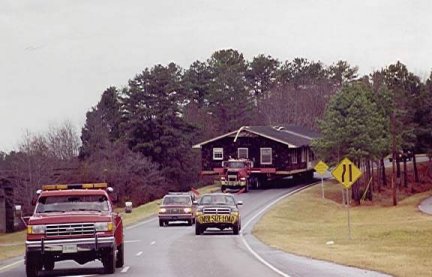 some of the questions that crossed my mind and when I started looking into the prospect of building a new house on my property, the answers became more evident. As I learned more about the process of moving a house, the benefits became more evident.
As the benefits became more evident, I realized that moving a house was the best way for me to go.
What was holding me back was the thought that this was a tremendous project full of pitfalls, each of which could change the project into a nightmare of a moneypit, costing me any benefits I would have saved by moving instead of building.
I have now moved my first house and have it almost completed and it was not as daunting of a task as I thought it would be. Now that I'm on the other side of the move, I hope to take the process down to a more basic level so that others realize that it is not such a daunting task..... If you understand what you are up against you can make decisions and be prepared for the decisons you'll have to make along the way......